Frank Bennack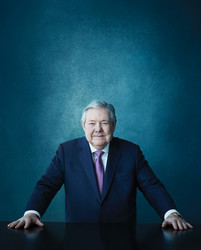 Photograph © Richard Phibbs
Frank Bennack is executive vice chairman and former CEO of Hearst, a leading global media, information and services company with more than 20,000 employees and 360-plus businesses. During Bennack's tenure as CEO, he directed the company through an unprecedented period of growth from when he began his first tenure as CEO in 1979 through June 2013 when he stepped down increasing revenues 14 times and growing earnings more than 30 times. He is also chairman of the company's Executive Committee, a director of Hearst, and a trustee of the Hearst Family Trust. In addition, he sits on a number of corporate committees and the Hearst Foundations Boards, where he has served for more than 25 years. Bennack is currently a director of Ralph Lauren Corporation. He is chairman of Hearst Magazines UK, a wholly owned subsidiary of Hearst. Bennack is also a governor and former chairman of NewYork-Presbyterian Hospital and its Healthcare System, a managing director of the Metropolitan Opera of New York, chairman emeritus of Lincoln Center for the Performing Arts, and chairman of The Paley Center for Media (formerly The Museum of Television & Radio).
Join our mailing list!
Get our latest book recommendations, author news, and competitions right to your inbox.
By clicking 'Sign me up' I acknowledge that I have read and agree to the privacy policy and terms of use, and the transfer of my personal data to the United States, where the privacy laws may be different than those in my country of residence.
Books by Frank Bennack